We buy and sell used aesthetic lasers, used medical lasers, used ophthalmic lasers, used hair removal lasers, used vascular lasers and used wrinkle lasers. Used Cosmetic lasers and used aesthetic lasers. We provide used cosmetic laser repair, used cosmetic laser training and used cosmetic laser warranties.
Cosmetic Lasers: Facts, Applications and Equipment Manufacturers
The Cosmetic Laser's Role in Cosmetic Dermatology

Medical lasers have become very common in the practice of Dermatology, Surgery, Plastic Surgery, Dentistry, Ophthalmics and s or Cosmetic Procedures.

Light Amplification by Stimulated Emission of Radiation (LASER) produces an intense beam of light of an exact and narrow wavelength, with insignificant dispersion over a short distance. This property is utilized in dermatology to treat various skin disorders.

When a laser beam is directed at the skin, it is absorbed by the water in naturally occurring pigments like melanin and hemoglobin. It is also absorbed by artificial pigments introduced by means of tattooing. Lasers cause very precise tissue destruction of the lesion in the light path, and does not affect the skin tissue in the surrounding area. It is this precision that has generated tremendous interest among Dermatologists to use the laser as an operative tool.



Matrix, Inc. - We Purchase Medical Lasers!
Cosmetic Lasers, and Their Treatment of the Following Skin Conditions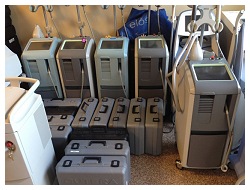 MedPro, Inc. - Beautiful Refurbished Lasers!
Port Wine Stains can be removed with the Pulsed Dye Laser (Vasculite) and Carbon Dioxide Laser. They require multiple sittings, but the results are very satisfying.


Spider Nevi can be treated with the Pulsed Dye Laser and Long Pulsed Nd YAG Laser. Lesions on the face can be treated with the KTP laser.


Warts, a viral infection caused by Human Papiloma virus are effectively removed by the Carbon Dioxide or Pulsed Dye Laser.


Scars such as acne scars or ice pick scars are resurfaced with the Erbium YAG laser or Carbon Dioxide Laser. Hypertrophic scars are flattened with the Pulsed Dye Laser.


Moles and Nevi are removed for medical or cosmetic reasons using the Carbon Dioxide, Ruby or Erbium YAG Laser depending on the type. Pulsed Dye Lasers are also used to treat "Giant Pigmented Nevi.".


Lentigenes (age spots) are removed using Ruby Lasers.


Hair Removal temporary or long term has become a much easier task with the advent of lasers. Largely, laser hair removal gives excellent results in fair skinned people. Listed below are a few lasers used for hair removal.



Epilight
Medilite (Q switched YAG)
GentLASE (long pulsed Alexandrite laser) preferred for dark hair in light skinned.
Lyra (long pulsed YAG) for dark skinned people.


The laser light is absorbed by hair follicles, and spares other skin appendages. Cooling devices further prevent heat damage to the rest of the skin. Laser hair removal needs multiple sessions. Regrowth of hair after each session may take from 3 months to up to a year. The regrowth is thinner, slower and scantier after each session.


Resurfacing is done effectively using lasers for acne scars, pits and small pox scars. Wrinkles are also treated by this technique. This procedure involves the precise removal of very thin layers of irregular skin. Carbon Dioxide Lasers and Erbium YAG Lasers are used for laser ablation. Q - switched Nd YAG lasers are used for non-ablative resurfacing.


Tattoo Removal - tattoos are difficult to treat. Q-Switched Ruby Lasers and Nd YAG Lasers are effective. Multiple sessions over many months may be required to obtain favorable results. The color of the tattoo and the depth of the pigment influence the duration and the outcome of the laser treatment.
Cosmetic Laser Types and Manufacturers
There are many kinds of lasers available today. Each of them have a specific range of utility, depending on their wavelength and penetration. Some commonly used lasers are listed below.


Pulsed Light Lasers
Alderm Prolite
Cynosure Charm
Cynosure PhotoLight
Lumenis AcuLight
Lumenis B-Clear
Lumenis D-Lite SR
Lumenis EpiLight
Lumenis MultiLight
Lumenis Quantum DL
Lumenis Quantum HR
Lumenis Quantum SR
Lumenis Photoderm VL
Lumenis Photoderm Vl/PL
Lumenis Relume
Lumenis VascuLight HR
Lumenis VascuLight Plus
Lumenis VascuLight SR
Lumenis VascuLight VS
Lumenis VascuLight VX
Lumenis VL/PL/HR
Medical Bio Care Omnilight FPL
Opti Genesis Epicool Platinum HR
Palomar EsteLux B
Palomar EsteLux R
Palomar EsteLux Rs
Palomar EsteLux V
Palomar EsteLux Y
Palomar Medilux
Palomar MediLux B
Palomar MediLux G
Palomar MediLux V
Palomar EsteLux G
Primary Technology Spectrapulse
Radiancy Spatouch Skinstation
Syneron Aurora

Diode Lasers
Aesclepion Meditec
Biolitec Ceralas D
Biolitec Ceralas D15/18
Biolitec Ceralas G5
Candela Smoothbeam
Cynosure Apogee 100
Iridex Apex 800/1000
Iridex Diolite 532
Lumenis LightSheer EC
Lumenis LightSheer EP
Lumenis LightSheer ET
Lumenis LightSheer SC
Lumenis LightSheer SP
Lumenis LightSheer ST
Lumenis LightSheer XC
Opus F1 Diode Laser
Palomar SLP1000
Quantel Viridis Derma
ND Yag 1064 nm & 532 nm Lasers
Altus CoolGlide
Altus CoolGlide Excel
Altus CoolGlide Genesis
Altus CoolGlide Xeo
Altus Medlite C
Altus Vantage
Candela GentleYag
Con Bio Medlite II
Con Bio Medlite C3
Con Bio Medlite C6
Con Bio Medlite IV
Cynosure SmartEpil II
Depilase Twin Yag
Depilase Yag Lase Plus
Hgm Corium 400 Diode
Hgm K1
Hgm Kyrpton laser
Icn Photonics Cooltouch II
Icn Photonics Cooltouch Varia
Icn Photonics Quench
Laserscope Aura I
Laserscope Lyra I
Laserscope Lyra Xp
Lumenis VersaPulse C
Lumenis VersaPulse V
Palomar Q-Yag 5
Sciton Contour
Sciton Profile
Telsar Softlight
WaveLight Burane
WaveLight Burane XL
WaveLight Mydon

Alexandrite & Q-Switched Lasers
Candela AlexLazr
Candela GentleLase LE
Candela GentleLase Plus
Con Bio Medlite II
Con Bio Medlite IV
Cynosure Accolade
Cynosure Apogee 40 Express
Cynosure Apogee 5500
Cynosure Apogee 6200
Cynosure Apogee 9300
Depilase Twin Lase
Lightage Epicare
Lumenis VersaPulse C
Lumenis VersaPulse V
Palomar RD 1200
Sharplan Epitouch 5100
Wavelight Arion
Pulsed Dye Lasers
Candela C Beam
Candela ScleroPlus
Candela V-Beam
Icn Photonics Nlite
Icn Photonics NliteCool
Cynosure PhotoGenica V
Cynosure PhotoGenica V-Star
Cynosure PhotoGenica VLS

Optical & RF Lasers
Syneron Aurora DS
Syneron Aurora DSR
Syneron Aurora SR

Ebrium Lasers
Lumenis Coherent Ultrafine Erbium
Con Bio 2.94
Cynosure CO2
Cynosure PhotoAppeal
Lumenis Derma K
Quantel Aramis

CO2 Lasers
Lumenis Coherent UltraPulse 5000C
Lumenis Coherent UltraPulse 5000V
Lumenis Derma K CO2 Erbium
Lumenis Luxar LX 20 CO2
Lumenis Luxar NovaPulse CO2
Lumenis Sharplan 40C Silk Touch CO2
Lumenis Sharplan Feather Touch CO2
Lumenis UltraPulse Surgitouch CO2

Ruby Lasers
Lumenis Sharplan EpiTouch Ruby
Palomar Epilaser
Palomar RD 1200

Holmium Lasers
Lumenis VersaPulse PowerSuite 60
Lumenis VersaPulse PowerSuite 100
Lumenis VersaPulse PowerSuite 20
Trimedyne OmniPulse-Max

MedPro, Inc. · 532 Old Marlton Pike, Suite 256 · Marlton, New Jersey, 08053-2075, U.S.A. · Mike@MedproLasers.com


Corporate Sales
1-856-797-0048
Corporate Fax
1-856-797-1740
16284 / 3